How to solve: Pioneer receiver forgets most recent internet radio station
2021/12/24
With analog cable radio disappearing left and right, internet radio is really the only option left for reliable cable radio in the home. Some Pioneer receivers have built-in internet radio functionality, but the interface is clunky and difficult to use. Luckily, the receiver will automatically tune in to your most recent active radio station, so if you only listen to one station, it's a "set and forget" thing. Unfortunately, sometimes the receiver seems refuse to connect to this station and kick you back to the main menu. In this article, I'll go over how you can attempt to solve this issue by adding the internet radio stations yourself.
From my investigations, the issue with your Pioneer receiver "forgetting" its most recent radio station has to do with basic connection issues. When the receiver connects to the radio station, but the connection times out (or there's another error for whatever reason), it'll kick back to the Internet Radio menu. You can confirm this behaviour by trying to play a "problematic" radio station from the menu itself. You'll find that when you select a problematic station, the receiver will just go further down the list of your current category and play the first station that can actually make a stable connection. Likely, the vTuner service that Pioneer uses has an out-of-date database of streaming URLs, a problem which we'll try to solve by defining the stations ourselves with our own streaming URLs.
To do this, go to the Radio Pioneer website and create an account. To create this account, find the "Get acces code" menu option under "Help" in the Internet Radio menu. After you've logged in to your account, you can add your own radio station by clicking "Add Station":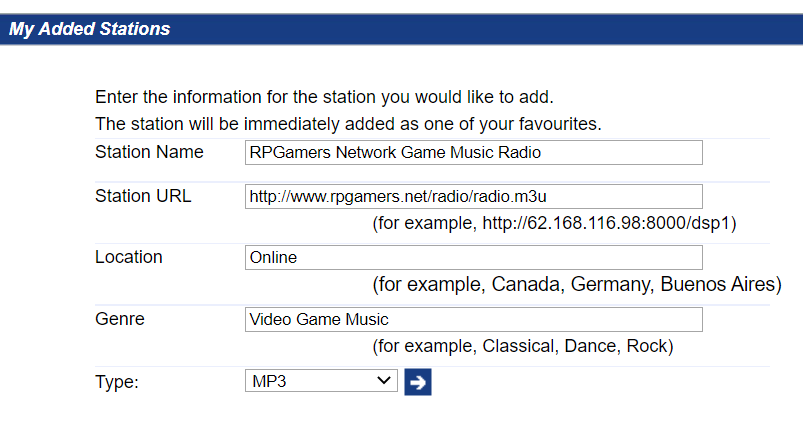 Fill in the details (you can find the correct streaming URL online) and submit the form to add the station. I recommend turning your receiver off and on again after this procedure, since your new station won't automatically appear from what I've found. You can find your own stations under "Added Stations" in the Internet Radio menu. Once you've tuned into this station, the receiver should continue to reconnect to it (even after a power loss) since the streaming URL you entered should be more reliable than the one from the vTuner database. Happy listening!